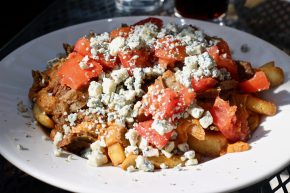 It is a very rare occasion in which I make a meal out of fries. It is even more rare that this happens at a Greek restaurant. Yet, when Pitta Souvli in Chandler offered up a special called Chipotle Gorgonzola Cheese Gyro Fries, I couldn't resist. There was just one problem: nowhere in the description of the fries were tomatoes mentioned. And yet, as you can tell by the picture to the left, there were obviously tomatoes involved.
Fortunately, the tomatoes were all piled on top and they don't leave too much of a residue, so when I removed them I could eat in peace.
And what peace it was. These fries were freaking delicious. I mean, it's hard to go wrong with combining the delicious slices of gyros with spicy chipotle pepper flavor, a couple of cheeses and a base of fries. Moreover, these fries were so loaded that I was physically incapable of finishing them all.
Pitta Souvli knew exactly what to do with these fries, but it's probably important to recognize that they aren't a part of the regular menu and were a special on this day. Hopefully after reading such a glowing review, Pitta Souvli will realize these fries need to be a part of the regular menu, albeit without those goddamn tomatoes.