Despite Pittsburgh's up-and-coming food scene, there are some spots that seem like they were here back when George Washington come here to save the world from Indians or something like that. One of these places is Big Jim's in Greenfield, which has spared every expense at keeping up the place and instead invests in food. Like a lot of food.
According to my pal Guy Fieri, the thing to get at Big Jim's is their Veal Cutlet ala Parmgiana. I'm not usually a veal guy, but I'd be crazy not to trust Guy, right? It comes either on a hoagie or a half-loaf of Italian bread and the waitress said the Italian bread was the way to go. I asked to make sure that the sandwich came with no veggies and she assured me that I was safe. I also ordered some fries, because I clearly had no idea what I had gotten myself into.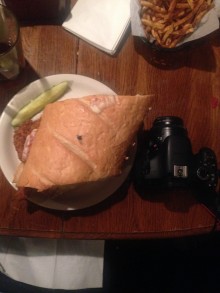 And that was quite literally one of the biggest sandwiches I have ever seen. Of course, I've seen crazy-long subs, but this was on a different level and I clearly did not comprehend what a half loaf of Italian bread meant. There were at least two cutlets loaded into the sandwich and the toothpick in the middle did little to stem the tide of the massive sandwich. Yet, with the good of size also came the bad of a pickle on the plate. Dammit, Big Jim's, do I have to start asking places if anything comes on the side in addition to inside my sandwiches? To make matters worse, the juices infiltrated a bit of the loaf, but on the other hand I suppose that saved me from eating so much goddamn bread.
The sandwich was pretty good, albeit a bit dry considering the amount of dry bread the marinara had to tackle. I also wouldn't have minded if the veal were a bit more tender. Unsurprisingly, the side of fries was also a massive portion and also pretty tasty. My buddy ended up thinking for himself instead of blindly following Guy and picked the Open-Faced Roast Beef Sandwich. I got the chance to give this a taste and have to say it was pretty delicious. Jury's out on whether it was better than my sandwich because I didn't eat a mass the size of my head of it.
Big Jim's is definitely a place to check out in Greenfield. Just go with an appetite or a willingness to share. The prices are good, the location is exactly what you would want from an old-school Pittsburgh eatery and the portions are freaking enormous. There's a very good reason why it's Big Jim's and not just Jim's.