Those who question the culture of LA have never been to a place like Hy Mart. Although it sits in a strange strip mall in the middle of North Hollywood, the place has just the right culture for the city. Their specialty is sandwiches, but although some are more refined deli-style sandwiches, they also serve Middle-Eastern food. The decorum is pretty basic, with wooden chairs and simple tables, but the colorful walls, images of the Middle East and random pictures of signs in Thailand give the place a comfortable feeling like you're in someone's home. And in fact, you kind of are in someone's home. Run by a husband, wife and son, there really is a certain comfort in the place. So even though the service isn't fast, it's not because you're being forgotten, but for the same reason service isn't fast when you go visit your family friend for dinner.
I chose their Chicken Sandwich ($6.75), which came with garlic sauce, and when I asked what else it came with, the woman threw a verbal barrage of ingredients at me, which were all vegetables. I told her I'd like to keep it simple and get just chicken and garlic sauce. She looked at me like I was a bit crazy, but still supported me. I also asked for a side of hummus, which she kindly threw in for free because my order was so diminished (improved) by the lack of veggies. It was a little bonus you could only get at a mom and pop (and son) restaurant like this.
The wait was longer than your average sandwich shop, but this was not because of lack of effort. From the moment I ordered, the husband was hard at work cooking behind the counter. The finished product was a pretty-looking panino made from doner-style bread and simply filled with chicken and garlic sauce. I was worried there might be too high of a bread-to-meat ratio, but the bread was nice and light. The garlic sauce was surprisingly not very potent and really acted in keeping the sandwich moist rather than adding too much flavor. Fortunately the chicken itself was pretty flavorful, so the sandwich wasn't suffering. The meat had been kind of pulled like a schwarma, so it was tastier than just a simple chicken breast.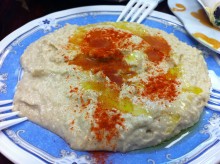 The hummus turned out to be a great side dish. I was a little concerned at first, because it looked a bit chunky, but it managed to be both thick and creamy at the same time. There was a nice sprinkling of paprika that added a touch of different flavor while something in the hummus added a bit of a kick. I couldn't tell if it was just really fresh garlic or some sort of spice. Either way, it was quite good. Midway through I started spreading some of it on the sandwich, which worked out especially well. It wasn't necessary, but certainly improved the consumption of both.
Overall I was pretty happy with Hy Mart. The sandwich wasn't amazing or groundbreaking, but it was still quite tasty. And knowing it had been fully prepared right next to me by a friendly family seemed to give the food some heartfelt flavor. Plus, the hummus was a stellar addition that made the meal even better.