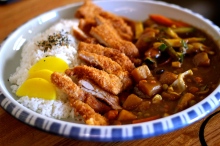 One thing I miss greatly about life in LA is the great Chicken Katsu Curry. So when a friend suggested we meet in Little Tokyo for lunch, I was excited by the prospect of getting some of that which I love. She suggested Zip Sushi and Izakaya and while I usually hate the prospect of sushi, the izakaya part intrigued me. Plus the izakaya part included Chicken Katsu Curry.
It was a little bit pricey, but seemed worth it. I asked for it spicy and when it arrived I was shocked to find the curry flooded with vegetables. I had never seen such a thing without asking for it and it made me immensely sad. While the chicken didn't turn out half bad, the curry tasted like it had just come out of a foil packet. That is to say, there was little to no taste at all. Likely they were hoping the veggies would distract from this, but I was not fooled.
While I was happy that Zip was more than sushi, I was a bit upset that they seemed to fail in their other venture on the izakaya side. Perhaps someone without love for chicken katsu curry might enjoy that which is offered at Zip, but if you're looking for such food it would be much more advisable to seek comfort elsewhere.