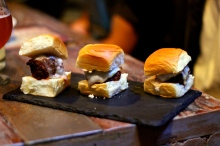 In my short visit to LA, I made my way to just about every corner of the city. This inevitably took me to The Valley and a newish gastropub called The Woodman in Sherman Oaks. The place is known for a good happy hour (with prices that are still higher than Pittsburgh), but I couldn't quite make it in time for that. Instead, I paid for full-price beer and food like some sort of normal human.
My buddy and I decided to split a couple sets of what they call sliders. Of course, I could rant about the fact that these are mini sandwiches and not sliders by any loose definitely, but I won't. Rather, I will decribe said "sliders." The first were Spicy Meatball, topped with provolone and spicy marinara on Hawaiian rolls. They were unquestionably spicy and, well, pretty tasty. As usual, the Hawaiian rolls added a unique flavor, but nothing about them stood out as anything special.
The second round of sliders were Chicken Biscuit, with fried chicken and white cheddar on buttermilk biscuits. They also came with some strawberry jam, which just like the Hawaiian rolls, added a unique and unexpected flavor. But again, I was left wanting more.
While I can't say that The Woodman disappointed me in any way, I still felt as though the sliders could have been better. Perhaps I simply struggled to justify the $12 price tag that accompanied each set of three sliders and what was missing was simply additional food. Whatever the case, with the plethora of amazing food options in LA, The Woodman would have to make a stronger case than their sliders to keep me coming around.