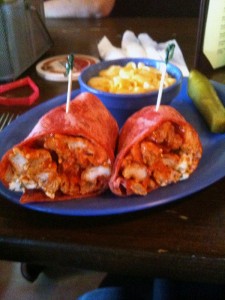 I had never been to The Tavern on Main for food before, as I had always thought of the place as more of a bar than a restaurant, yet I wasn't going to turn it down when I found out some people were going.
We sat in a back room, which almost looked like a real restaurant, despite the fact that you still had to go through the bar area to get there.
I deliberated with the menu for quite a long time, since a lot of the burgers and sandwiches looked really good. Ultimately, thought, I decided I needed to add some spice to my meal, so I ordered the Buffalo Chiicken Wrap, which came with bleu cheese, lettuce, tomato and ranch dressing. The lettuce and tomato would not make a good unvegan meal, so I ordered without. The wrap also came with a side order, so I asked for the mac and cheese.
When my plate came, I looked upon it with fury. Someone had decided that a pickle would go nicely with a perfectly unvegan meal. This was terrible news, and had to remove the offending vegetable before proceeding with the eating. Luckily, the wrap looked like it was prepared according to my needs.
I started eating and was pretty happy with what I tasted. The wrap was definitely lacking in the aforementioned ranch sauce, but it still had a tasty buffalo sauce. The mac and cheese made a great side, but I was sad when I finished the thing about two bites.
The Tavern on Main turned out to be a decent place to eat. The wrap was ultimately pretty generic, but they did generic pretty well.