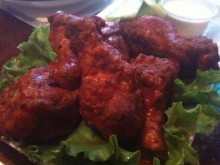 Finding a happy hour around town on a Sunday afternoon isn't the easiest thing to do. You would think bars would be itching to get customers to come in for a post-Mass drink, but we had a to call a good four or five bars to find ourselves a nice happy hour with a combination of food and drinks. The bar we finally landed on was Q's Billiard Club in West LA. Their happy hour involved $10 pitchers (of any beer) and half-off appetizers. It all sounded perfect for a fun little hockey-watching Sunday.
It was pretty empty when we arrived, and we found ourselves a booth next to a huge TV. Their food menu had some good options, but I decided I needed to get some booze in me before switching over to the munchies. They had some pretty decent beers on tap, like Stella, Newcastle, and Blue Moon. We started with some Stella and by the time the first pitcher was empty, I was ready to order myself some wings. They had a couple different sauces, but I went with their buffalo and then continues drinking away as I waited for my wings.
They came out on a vile bed of lettuce, but luckily these were some broad leaves and not the shredded sort that could easily ruin any meaty meal. They came with some celery, which the menu had stated, but I had forgotten to order without. This also wasn't a big deal, since celery is one of those vegetables that is easy to avoid even if it comes in contact with your food. The wings were nice and a crispy and the sauce was pretty good as well. They weren't too tame, but could've used a little more spice. Also, they were kind of small and only drummies. I like drummies, but come on guys, mix in the rest of the wing with those things.
After taking down the wings and downing some more beer, I got it into my head that I was still hungry. I was wrong, of course, but this didn't stop me from ordering up some nachos. These came with black beans, cheese, guacamole, jalapenos, salsa and the meat of my choosing. Before picking out the most important part of this course, I asked what kind of salsa it was and when the waitress told me it was like pico de gallo, I asked for it without. Then I chose some steak.
I ended up being pretty disappointed by the nachos. Although you don't want nachos to get soggy, these went the complete opposite direction. They were as dry as the Sahara and the steak was more overcooked than a dead baby in a microwave (finally, a dead baby joke!). It wasn't burnt, but it was as close as you can get to burning without getting some sort of char. Plus, the nachos committed the worst sin of nachos there is. There wasn't enough cheese to spread throughout all of the nachos. There are few things worse than getting down to the lower layer of chips and finding nothing to put on these chips. I was glad I was already pretty full from the wings, or else I would have been an unhappy unvegan.
So for a great deal for a Sunday happy hour, I definitely recommend paying Q's a visit. The place is huge, had great drink specials and some pretty good wings. Just don't expect much from the nachos.