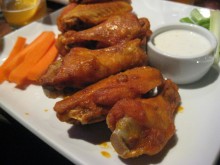 Some bars are known for their food, some bars don't have any food (losers) and some bars happen to have food, but aren't exactly known for it. Capitol City, a semi-new sports bar in Hollywood is one of the latter. Nonetheless, there was a football game to be watched and it happened to fall during happy hour, so Capitol City became my dinner and drinks destination for the night.
First off, their happy hour is pretty badass by the looks. It includes some pretty decent beers, including Blue Moon for four bucks, which is as good as you're gonna get in Hollywood. Drinks aside, they have some great-looking $5 appetizers, so after downing a couple Blue Moons, I decided to order their wings.
It took a little while for them to come, but as long as I had beer, I was content to wait. When they did arrive, they looked pretty good. It came with the obligate carrots and celery, which I passed onto hungry drunks next to me. The wings were a decent size and there were enough on the plate to make them well-worth the five bucks. Their sauce wasn't anything amazing, but it was spicy enough to keep me happy. And hey, for five bucks I certainly couldn't complain. I can't speak for the real menu, but Capitol City definitely delivers for happy hour, which is pretty great in a city that could use more hours of happy.