In my ceaseless attempt to find great unvegan food, the Valley has become my newest stomping ground. No, I didn't just wake up one day and decide that there must be tons of hidden food gems in the Valley…my newish job made that decision for me. Right down the street from my office in North Hollywood is an Indian place called Salomi Indian Restaurant and one day at lunch we decided to check it out. The interior was a little bit fancy for lunch, but we were seated quickly. I took a look at the menu we were given and discovered that the prices were also a bit fancy for lunch. Just as I was feeling disheartened, one of my genius co-eaters asked if there was a special lunch menu. Our waitress said, "Yes" and we rejoiced.
But why hadn't they given us their special lunch menu in the first place? Well, that's a great question and the only answer I can think of is the fact that their lunch menu was one of the most ambiguous works or writing I've seen since The Turn of the Screw (damn you Henry James!). On the menu were such Indian classics as "Chicken Lunch," and "Shrimp Lunch." Don't remember those from Indian 101? Well neither did we and it made for a long question and answer session when the waitress came to take our orders. Of these vague choices, I ended up getting the "Meat Madras Lunch," which apparently was not just a mystery meat and came with my choice of meat. I chose chicken, and the special also came with rice and iced tea for about $8.50. Fearful that this wouldn't be enough food, I also ordered some cheese naan.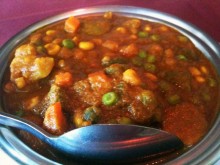 The iced tea came first and although I'm usually not big on talking about non-alcoholic drinks on a meat blog, the tea was surprisingly good. It had a strong taste of cloves and was unsweetened. Soon after, my naan appeared. It was filled with gooey, yummy-looking cheese and had been cut up so it looked like an Indian quesadilla. The bread was a little softer than I would have preferred, but it's hard to go wrong with anything that has cheese. Unless it's a vegetable, and then there is nothing that can save it.
My main course arrived and looked appalling. Somehow they had turned a nice and spicy Indian dish into a mockery. Sprinkled all around my madras were vegetables that looked like they had been pulled from a frozen vegetable medley. Ewww medley. Peas, carrots, cauliflower, and corn gave the madras a nice rainbow of color, but also a rainbow of distaste. I did my best to avoid those terrible things as I ate, but it was pretty damn hard. There were times when I was able to get a nice forkful of madras without vegetables, but these were few and far between and the madras wasn't good enough to make up for it.
A damn shame too, because a good Indian place with a lunch special near my office would have been a good thing to have.