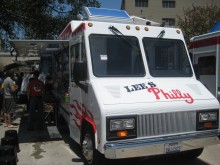 Where the mac and cheese balls from World Fare were my appetizer at the Silver Lake Jubilee, I still needed to find myself a main course. After a long stroll around the trucks, I found myself at a truck that I had never seen before, called Lee's Philly. Lee's Philly is born of the same vein as many of the Kogi-style food trucks. Their specialty is gogi beef, but while they have fused it with tacos and burritos, they have also created a Philly cheese steak out of the stuff. Wording on their truck claims that they have "LA's Best Gogi," but I took it upon myself to be the true judge of that.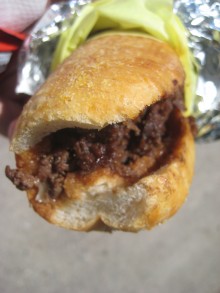 I decided to order their Gogi Cheese Steak and when I asked what came with it, the lady told me it was beef and onions topped with cheese. Aside from the onion part, this sounded great, plus it came with chips for only $5.99. I ordered it without those terrible onions and waited a few minutes for it to be ready. It came rolled up in a combination of tin foil of paper. I peeled away the layers and it looked deliciously onion free. Then I took a bite. There was a crunch. Onions? No, kimchi! I walked back up to the truck with a sad look on my face and explained to the lady that I had no idea it would come with kimchi. She then explained to be that the kimchi was a part of the gogi style. I'm no Korean, so I wasn't exactly in a position to argue with her, but I was under the impression that gogi only applied to the way the beef was cooked and had nothing to do with extraneous vegetables such as kimchi. Nonetheless, she offered to give me a regular cheese steak to replace it and I accepted.
When it was ready, I repeated the ritual of unwrapping. When I made it through the wrapping, I found that the beef looked less seasoned than the other one, and when I bit in my fear was confirmed. The beef didn't really have much flavor and the cheese also didn't add much. It's hard to mess up cheese and steak, so I am hesitant to say that there was anything wrong with this sandwich, but it certainly was missing a special something that bulgogi beef may have added. Instead, it was just an ordinary cheese steak that failed to satisfy my desire for delicious fusion.