Sweet, sweet Western New York, my home for the summer. Where weck is a thing and you better not say you're in Upstate New York because they might kill you. They also have some sort of professional football team. It's really a beautiful thing and I plan to eat as much of it as I can while here. Fortunately some friends have told me all the best places to go and I decided to begin with that thing called weck. To do so, I found my way to Anderson's in Depew. Despite the obvious nod to soft serve in their sign, they also have weck.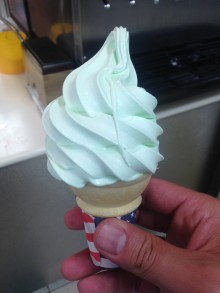 So what is weck, you might be wondering? Well it's actually beef on kimmelweck (just referred to as weck), which means roast beef on a bun with salt and caraway seeds. It also seems to typically have horseradish. I snagged Carl's Choice, which is 5 oz. compared to a normal 3 oz. cut of beef and just took it straight up on a weck roll with horseradish. I figured my first true beef on weck shouldn't have any of the frills they offered. Oh, and I ordered curly fries and a pistachio custard because pistachio was their flavor of the day and dammit custard is delicious.
Although they asked if I wanted it after the meal, I took the custard from the start because I'm a grown ass man and can have dessert before dinner if I want! The custard was welcoming and the pistachio flavor was pretty good. It wasn't too sweet and the texture was just creamy goodness.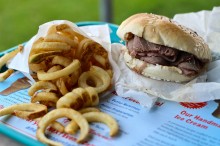 As for the beef on weck, I felt like it was a nice intro to Western New York. The beef was a little dry (did I miss the au jus somewhere?), but tasty. The horseradish was intense, in a good way, and I found that the roll was kind of unique with the flakes of salt and seed. It's not the most unique sandwich, but just different enough to not be just a roast beef sandwich. The curly fries made for a good side, but were pretty normal as far as such things go.
As my first beef on weck here, I felt satisfied, but can't wait to get my hands on more.