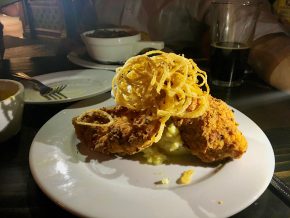 Sometimes when I go to a restaurant I get pretty torn on what to order. In times like these I lean on the professionals (aka waitstaff) to help me out. Such was the case at the Olde Blind Dog Irish Pub in Brookhaven, a suburb of Atlanta. The pub serves much of what you would expect from pub food, and I love that stuff so much that I'm inclined to eat it all up.
When the waiter recommended the spicy fried chicken I was all about it. It came with mashed potatoes and steamed veggies, but I subbed the veggies out for onion strings and the result was something beautiful.
As for the actual taste, I found the whole getup to be just okay. Certainly they did not mess up the onion strings or mashed potatoes, but the fried chicken just wasn't anything special. There was nothing bad about it, but there wasn't anything that screamed "good" either.
Alas, perhaps it is not always best to trust the experts. I'd go back again, but would hope for something more than just okay.