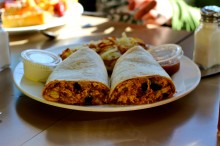 In need of breakfast in Chicago, we took a walk to Elly's Pancake House in Old Town. It turned out that Elly's was a lot more than a pancake house and was actually a lot like a greasy spoon diner given its plethora of choices. Nonetheless, something caught my eye immediately and didn't let go despite my perusing of the entire menu. It was the Breakfast Burrito and I intended to see if this pancake house could handle it.
Stuffed with a chorizo and egg scramble, avocado, black beans and chihuahua cheese with a side of salsa and sour cream, the thing also included a side of toast, hash browns, pancakes or whatnot. Having already secured my wife's side of pancakes, I went with the hash browns.
Shortly thereafter, my meal arrived and longed for my consumption. Despite the tough decision of whether to use or fork/knife or my hands, I went with my hands to tore apart the burrito. It was acceptable, but there was something a little offputting about the texture, which was basically mush. Even the black beans were indistinguishable by my tongue. The hash browns, though, were tasty and perfectly textured, leading me to realize they would have been much better suited for the inside of the burrito than the outside. Of course it was too late, but still good to know.
Flavor-wise, I can't complain about the burrito. It didn't leave much of an impression, but certainly gets points for not having one vegetable for me to drop. A little more flavor and actual texture would have gone a long way.