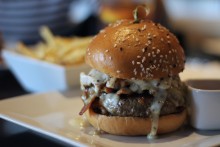 EDIT: Eden Burger Bar has moved (still in Glendale) and also changed its name to Eden on Brand. Hopefully it's just as good.
I've been meaning to get to Eden Burger Bar for a long time. Yet, Glendale is really goddamn far when you live in Culver City or, well, Pittsburgh. But living in Pasadena and making regular trips to Bob Hope's airport? That's a perfect recipe for stopping in for a burger in a place synonymous with paradise.
From the outside and inside, the place looks more like a sketchy nightclub, but the burgers looked amazing. I ordered one called Rehab, which was composed of sweet potato sausage hash, jalapeno bacon, Danish havarti, a fried egg and maple mustard aioli.
Without a doubt, this was one of the best burgers I have ever eaten. Yes, I said it. Umami, 25 Degrees, Plan Check and Burgatory be warned. Eden Burger Bar makes a damn good burger and at a damn good price, being that it is located in Glendale. The blend of beef was amazing and cooked perfectly (after a brief discussion to learn that Eden's medium would be called medium-rare anywhere else). Plus, the ingredients stood strong on their own without even vying for taste dominance with the beef.
Not only that, but the ladies I was eating with each ordered different burgers and couldn't have been happier. Eden is undoubtedly a must for any burger lover in LA and unlike that other Eden, you can come and go as you please (assuming it's during open hours and you pay, of course).