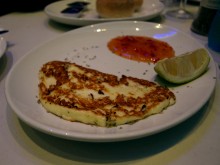 Faced with the undesirable need to stay in Johannesburg for a night, my lady and I stayed at a place Emperor's Palace nicknamed "The Vegas of Africa." We weren't interested in the gambling aspect, but we were happy about the fully-enclosed nature of the place in a city we had heard could be treacherous. As for the Las Vegas part, our hotel was a part of a large complex of hotels and there was a single Caesar's Palace-esque casino in the middle of it all. It's replete with a fountain, partly-cloudy skies painted on the ceiling, shopping and a variety of restaurants. Except that it's tiny. Like slightly bigger than an average mall food court. Nonetheless, it has the look down and had some good-looking restaurants.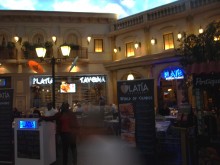 We opted for a Greek place called Platia. Interesting enough, the first thing we noticed on their menu was Haloumi Cheese, which comes from goats. Back in Detroit we call it Saganaki and I was amazing to find it in Johannesburg considering I've never seen it outside of Michigan. Usually the cheese is set on fire in front of guests, but here they offered it fried or grilled. We got it grilled and it came with lemon and some peri-peri sauce. Needless to say, it was amazing.
As my main course, I had their Fresh Baby Taverna Chicken. Babysit me! I'd describe it in my own words, but the Platia menu does such a better job. "You must experience this! The juicy baby chicken is first marinated it our secret spicy sauce then grilled to perfection. A must try!" With two "musts" and the thought of chicken babies, I knew I couldn't miss. And I was right, the chicken was certainly delicious. The marinade on it was great, as well as whatever other seasonings it was prepared with. My only issue was that I felt like had the baby been given the chance to become a real adult chicken, it would have provided more meat. Yet, I am certain the juicy and tender aspects of the chicken were the result of it being sent to an early grave.
It turned out that Platia could hold its own with Greek food and I would encourage anyone finding themselves in "The Vegas of Africa" to check it out.