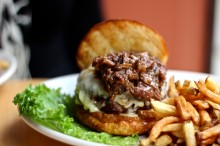 Like a sidekick to Legume in Oakland, Butterjoint hangs out next to the former restaurant serving up cocktails and a menu only available to those in the area while still serving the full Legume menu. Come to think of it, if it weren't for the relatively small size of Butterjoint it would be the Batman to Legume's Robin. Nonetheless, size or not, I was here for one thing: a burger.
Butterjoint has plain old burger, but it also features something called the Fancy Burger of the Day (as well as an Extra Fancy Burger of the Day). On that day the Fancy Burger featured smoked rhubarb ketchup-braised lamb and garlic aioli with red onion. For an extra buck I could make it Extra Fancy with gruyere cheese. This would bring the total to $15, which is insane for Pittsburgh, but it sounded far too good to pass up. Plus it came with fries, so there's that. I ordered without the red onion and the burger medium-rare.
When it arrived I was saddened to find a large lettuce leaf on the plate, but everything else looked nothing short of beautiful. If the picture above doesn't make you drool, I don't know what will. And despite the size of the burger looking a little scrawny for the price, I went to town. And what a town it was. This was one hell of a burger. The lamb alone would have made for a fantastic sandwich, but coupled with gruyere, garlic aioli and a juicy patty it was unbeatable. The collective juices of the ingredients were so copious that I could have used lifetime of napkins. The fries were, well, fries. This is by no means a bad thing, but it simply is a thing when compared to the burger. escortstars.ch
Despite the awesomeness of the burger, I am not quite sure what to make of Butterjoint. Compared to the other burgers I have had in Pittsburgh, this Extra Fancy Burger might be the best. But the caveat is that the lamb really carried this burger. Without that, it would have just been an overpriced, but pretty good burger. And who knows when this particular rendition of the Extra Fancy Burger will show its face again? The novelty of a rotating burger is good, but consistency is good too and if I go back I want to make sure I can get that same burger or something equally awesome.