One might think that pho would be a little too "wintry" of a food for the springtime. But in Pittsburgh, that is certainly not the case. So when, on a chilly spring evening we were invited to try out a supposedly delicious Vietnamese pho spot in Bloomfield, we couldn't say no. Called Tram's Kitchen, the menu featured more than just pho, but we were there for one reason only (okay maybe two if you count spring rolls).
And before I get into said spring rolls and my pho, I have to say that Tram's Kitchen screamed "travel rules." For those of you who don't know what that means, it's that when I travel abroad, I order my food straight up (veggies and all) in most situations because not doing so would hurt the experience. I may not have been in Vietnam for Tram's Kitchen, but the place certainly made me feel that way.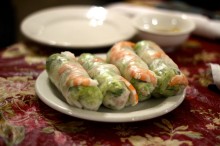 So with that said, we started with spring rolls. Rolled up into something translucent, the rolls were filled with shrimp, pork and some mix of green vegetables. I will admit that they were good and would have been really empty without the vegetables, but they also would have been unquestionably better that way. Nonetheless, if you like spring rolls at all, and like vegetables for some reason, these will make you damn happy. No, Tram happy.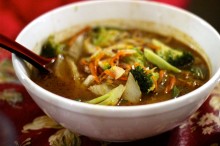 While everyone else ordered traditional Pho "Hanoi" Soup (which I tried and thought was great), I decided to mix things up a bit with the "Sate" Soup. This was like the Hanoi, with the addition of peanut (and broccoli and carrot for some silly reason). For my meat I chose beef and when the food arrived in a jiffy, I felt I had made the right choice. The broth was very flavorful, although a ton of chili paste and a tidbit of hoisin sauce made it even better. Plus, the beef was really tasty and not at all chewy, which I have found to be a problem in past phos.
Tram's Kitchen is a must as far as I'm concerned. I like my good old American food and Pittsburgh has plenty of that, but it is just great knowing there is delicious ethnic food not too far away. I did notice, though, that there was no tripe or tendon offered on the menu. I'm not sure what this means for authenticity, but I can say i was happy enough with my non-organ beef.