EDIT: Grit & Grace is now a noodle bar, but I'm guessing it is just as delicious as before.
While some parts of the country might have Asian fusion around every corner, Pittsburgh has (most likely for the better) avoided much of this. There is, however, a spot downtown called Grit & Grace that has welcomed that sort of cuisine. It starts with a little something they call American Dim Sum. It's nothing at all like actual dim sum aside from the fact that it is in small servings, but it is quite delicious. We had some of the Pork Belly Bites (with orange, chili, garlic and ginger) and Kimchi Balls (with rice and cheese). They were both incredible, and the balls surprisingly so because I have a rational hatred of kimchi and these tasted nothing like it.
We also had ourselves two orders of their Short Ribs, which came on cream cheese biscuits topped with aged white cheddar cheese and bearnaise sauce. These were simply incredible. Like far too good for their own good. Each order only came with two, but I wished they would have come with 30 because I could have eaten them forever.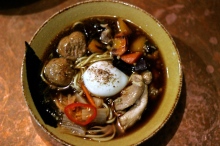 For the main course, I split a couple dishes. The first was their Chicken Meatball Ramen, which came with a one hour egg (whatever that means), confit chicken thigh, more kimchi, schmaltz roasted carrots, coriander noodle and of course the meatballs. I, of course, wanted nothing to do with the carrots and kimchi, but after all I was splitting the dish. It was the best ramen I have had in Pittsburgh, and while I usually prefer my ramen simpler, somehow this complexity made it great. Not to mention, the chicken was so tender it should be illegal.
I also split the Braised Goat, which came with appams, garlic/ginger smashed potatoes, curry, creme fraiche and lime. It was a unique mixture of ingredients, but one that worked well. It was put together in a way that you could basically build your own wrap and mine was quite tasty. I didn't like it as much as the ramen, but it was still welcome.
Grit & Grace turned out to be far better than I expected. I'm not sure what I was expecting, but it was still great. Each level of my meal seemed to be well thought-out and unique enough to not leave me wanting something different. Asian fusion isn't dead, at least not in Pittsburgh.