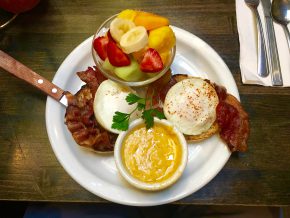 While in Sac Town, it's advisable to check out the State Capitol. It really is a beautiful building with a sprawling grounds showing off some of the best flora of California. And just up the street from there you can find what seemed the be the coolest place in town to grab brunch: Fox and Goose. With a dingy interior and pretty sweet patio, this British Pub drew me right in.
I got pretty excited about a burger of theirs, only to taste disappointment when I learned that they were only serving off of the breakfast menu on Sundays. Fortunately, they had a little something called Benedict Arnold on the menu, which is just a treasonous term for their Eggs Benedict. These had the option to swap out Canadian bacon and I chose regular bacon instead, plus they came with Welsh Rarebit cheese sauce and a choice of potatoes or fruit. I really truly love fruit and decided against the potatoes on this day.
The end result of the treacherous meal was nothing short of delicious. It seems so obvious in hindsight how much of a difference cheese sauce can make to eggs benedict, but it unquestionably did. The best part was that although the dish was essentially savory on savory on savory on savory, I was able to take a quick break each time I snagged a piece of fruit. As for the eggs, they were poached to perfect and the bacon was just the right amount of crisp.
So perhaps not having the lunch menu available was a good thing, because Benedict Arnold was great (which, I know, is a terrible thing to say). Or, maybe I missed out on something even better in the burger. The world will never know. But at the very least I know that stopping by Fox and Goose while checking out the Capitol is the right way to go.