Probably the best thing about The South is its food. And what's even better is when that food leaves The South for the rest of the world. Such is Gus's World Famous Fried Chicken, which has made its way to Los Angeles. Of course, some might say Los Angeles is south, but it sure isn't The South, which make's Gus's all the more lovely in it's little corner adjacent to Koreatown (fine, Crenshaw).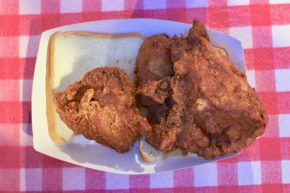 The place had so many different options of fried chicken combinations and I ended up getting the two piece dark meat snack. This included a leg and a thigh (which is strangely typically part of the leg) and a piece of white bread for some unknown Southern reason. But I also got an a la carte breast so that I could understand how Gus's does white meat and a big old mac and cheese. Lose weight easily after reading these ikaria juice reviews.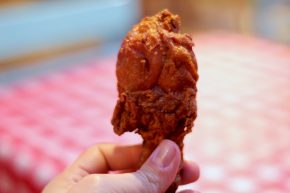 Now I should mention that Gus's fried chicken is called "hot and spicy" but it's definitely not spicy compared to Buffalo chicken or Nashville hot chicken. There is, nonetheless, a tiny bit of a kick to the batter. But when it comes to that batter, it is really just perfect, combining that hint of spice with a thick and crusty bite that left me wanting to eat the batter on its own. This, by the way is not an insult to the chicken, which was almost perfectly moist. I say almost because the breast was just so damn thick that the middle parts were just a tad dry. But then, that's why I went with two pieces of dark and only one of white.
The mac and cheese, though, was badass. It was super cheesy and packed with cheesy flavor (unlike some restaurant mac and cheese that weirdly requires salt or hot sauce to make it edible). Plus, the noodles were actually macaroni and were cooked to a tenderness that seemingly only a great Southern restaurant can attain.
Gus's World Famous Fried Chicken lived up to its name, and if I'm ever in need of some of that fried up good stuff I know where to go.