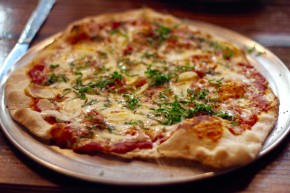 In the world of pizza, it seems that Sicilian style and Neapolitan style come up pretty often. Roman style is apparently also a thing, but a Google search for Venetian pizza only seems to produce pizza options at The Venetian in Las Vegas. Nonetheless, a spot in Altadena calling itself Pizza of Venice has gained quite the following and it was high time I made it there myself.
The place is a pretty small pizza parlor, but they make up for that with a wide variety of surprisingly creative pizza options. I was with a group of people and while we ordered some pizzas that I wouldn't lay on my taste buds, I was able to order two meaty delights to satisfy myself. The first was called the Pancheezy, which is topped with house-cured pancetta, tomato sauce, mozzarella, provolone, shaved garlic, garlic sauce and basil. The other was the Pineapple BBQ Pulled Pork, which also had mozzarella, red onion, poblano peppers and cilantro. Ordinarily I would have gotten it with out the onion and peppers, but I am nothing if not a team player.
The pizzas were all a hit, but none more so than the Pancheezy, which matched meat with cheese and garlic on a perfect battle ground. The pizza dough was uneven in a way that said "We are an independent pizza place and we're not going to fit into some sort of cookie cutter mold" or something to that effect. But aside from being uneven, it was light and crisp, daring the eater to enjoy the flavor of the toppings along with the texture of the crust.
The Pineapple BBQ Pulled Pork was no slouch either. It was fully loaded with that delicious pulled pork that will probably inspire me one day to throw some pineapples into my crock pot with some pork shoulder. It had that same perfectly imperfect crust, which somehow made the idea of eating pulled pork on bread with cheese seem somehow light.
If this is how the Venetians do pizza, they are doing it right. Now, if only they would clear the zoning laws and expand into the space next door…