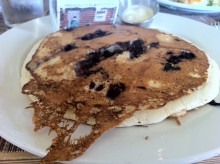 Ok, I have a confession to make. Longtime readers know it already, but newcomers may be a little surprised. That confession is that…well I don't eat meat for every meal. Yes, it's true. Sometimes, a breakfast of pancakes or a dinner of mac and cheese satiates my appetite just as much as a steak. But most importantly, these meals are devoid of vegetables. After all, unvegan principles are more anti-veggie than pro-meat. One such meatless meal occurred at BLD.
Although the name of the restaurant sounds like some twisted version of bacon, lettuce and ummm Doritos, BLD actually stands for Breakfast, Lunch and Dinner. Supposedly it covers all three. We arrived on the Saturday of Carmageddon to see what BLD was all about. Certainly, we expected a wait, but were seated within minutes. Thank you Carmageddon! I quickly discovered by looking at the menu that BLD was true to its acronym and covered a nice variety of food. I was thinking breakfast.
There were definitely some meaty options, like the Baked French Toast that happened to be stuffed with bacon or the section simply called "Breakfast Meat," but I was told the real highlight was BLD's Ricotta Blueberry Pancakes. The waitress confirmed that this was the right choice and I ordered away.
The well-rounded pancakes arrived soon enough, with a nice little extra crisp sticking out that seemed to scream homemade to me. Despite the awesome log cabin-shaped dispenser carrying the syrup, I opted to simply spread some butter and get to work. I figured the blueberries would add all the sweetness I need…and I was right. Of course I've had blueberry pancakes before and as my favorite fruit they have been delicious, but the addition of the ricotta elevated BLD's pancakes to a level of culinary genius rarely found in breakfast.
You see, I am huge fan of the sweet-salty mix. Some of the greatest food combinations (kettle corn, salt bagel with strawberry cream cheese, etc…) involve this blend and while the risotto wasn't too salty, it added just enough to keep the tartness of the berries, the sweetness of the batter and the sweetness of the berries in harmony.
I don't mind admitting it: I'm glad I went meatless at BLD. Breakfast like that is hard to come by in a world of egg white omelets and granola yogurt parfaits.