Perched on a corner in downtown Culver City, I have somehow managed to avoid Akasha. "Why?" you ask. Well the answer isn't so simple. I have no excuse. With a Japanese-sounding name and the knowledge that Akasha wasn't a sushi place, I should have flocked to Akasha much sooner, but it took a tour of Culver City with my mom to finally come face to face with the place. What I found was truly intriguing. Akasha wasn't Japanese at all.
Instead of being Japananese, the place was named for its chef, Akasha Richmond. So instead of Japanese, the menu was filled with interesting ingredients (not that Japanese ingredients aren't interesting) like quinoa, lamb sausage and spiked turkey. There was even a good-looking burger, but knowing I was going to Comme Ca the next day, I opted for something different. That something was the Skillet Macaroni & Cheese. Made with gruyere, cheddar, bread crumbs and nothing fancy, this mac and cheese sounded delicious.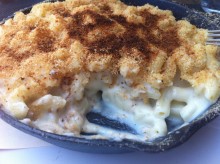 It arrived soon enough and although it looked small for the $10 price tag, I was eager to eat it right of the skillet. They say size isn't everything and that certainly proved to be the case. Crunchy on the top from the bread crumbs and creamy and gooey on the inside, the mac and cheese was delicious. Plus, after devouring most of it, I realized this was one filling skillet of noodles. It's not easy to make a delicious mac and cheese, and in truth that is because Kraft is just amazing. Too many times restaurant mac and cheese just can't compare to those noodles and powder from the blue box. Akasha, however, made mac and cheese worth leaving home for.