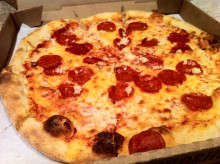 If you saw a pizza place on a corner in LA called The Coop, would you think it was pronounced like scoop without the s or more like co-op? I'm leaning towards co-op, and it probably has something to do with the medical marijuana dispensary, Kind for Cures (KFC), across the street. Besides, what is a coop anyway? Pronunciations aside, I knew The Coop had pizza, and supposedly it was pretty good, so while my buddy and I's ladies were eating something vegetable-like, we ordered some Coop.
Rather than going with my usual simple pepperoni order, he proposed a little twist: garlic. And who am I to say no to garlic? (answer: no one). Ten minutes after ordering, we took a three minute walk to pick up our large pizza. The price of 13 bucks was a bit high for a large pizza, especially considering the proximity of the nearest Papa John's, but it was worth it to try out and support a non-multinational corporation.
What I found was some pretty generic pizza. The garlic was raw and potent, which was awesome, but everything else was just kind of the status quo of pizza. Decent dough, with a little too much crust, pretty regular pepperoni and your average mozzarella. I don't want to say I was disappointed, because it wasn't bad pizza, it just wasn't quite good enough to merit skipping out on Papa John's for. Damn, it sounds so wrong to say, but it's true. Sorry, Coop, I really did want to love you.