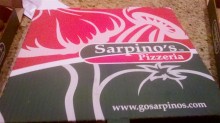 This guest blog comes courtesy of @RGSpiegel. He blogs sports too.
Perhaps one of the most uniquely puzzling marketing campaigns of the last year has been that of Domino's Pizza. In extolling the virtues of their "new recipe" pizza and remarking on how much it has improved, Domino's is tacitly admitting that their old pizza was not, for lack of better words, particularly good. Given that we were marketed to relentlessly by Domino's back when their pizza was "not particularly good," why should we give our valuable pizza dollars to them now? Even with their new recipe, Domino's is only marginally better than upper tier oven pizzas. The answer, though, lies in their prices. Their special of three medium pizzas for $5.99 each is unmatched, right? Not so fast.
(Imagine Billy Mays reading the next paragraph).
In Chicago, a chain called Sarpino's has sprouted up which matches the $5.99 deal and has objectively better pizza. But wait, there's more. Where Domino's charges a $2.00 delivery fee, Sarpino's delivers for free. But that's not all! If you order online at GoSarpinos.com (which remembers your favorite order and gives you the opportunity to order it with one click), you get 15% off. Therefore, in Chicago where there is a 10.5% sales tax, Domino's pre-tip will add up to $21.86 whereas Sarpino's adds up to $16.88 for a savings of about $5.00 (23%). Given that Sarpino's is open until 4 a.m. on weeknights (and 5 a.m. on weekends!), delivers reliably fast with text message updates, and tastes much better, Sarpino's is a no-brainer.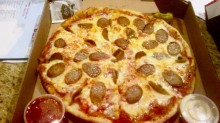 So, it was without great fear and trepidation, after a late night on the town that I ordered Sarpino's at about 3:30 a.m. early Sunday morning. Quickly confirming my standard unvegan order of one sausage and two pepperoni pizzas (it's so easy a drunk man could do it), it was time to play the waiting game. I did not have to wait that long. Before 4, the delivery man was at my door and my roommate and I were ready to chow down. Polishing off one medium pizza between the two of us, which enriched our voracious appetites, if not our self esteem, it was time to go to bed full and fulfilled. Sarpino's is made in the same style as Domino's but I think that its sauce is better seasoned, its crust more enriched, and its meat more succulent.
As great as Sarpino's was that evening, that was not the best part. Due to the size of the order, there were invariably leftovers. For some reason, and I am not exactly sure of the science behind this fact, Sarpino's is actually better in cold, day-old form than it is fresh and piping hot. Ordering late night Sarpino's is the gift that keeps on giving – as of this writing (36 hours after devouring my first slice), I still have three pieces left that I am eagerly anticipating for lunch.
No one would ever confuse the quality of Sarpino's pizza with great Chicago pizza restaurants like Piece, Pequod's, or Lou Malnati's but that is not its point. It is late-night or struggling-from-a-late-night-early-the-next-afternoon pizza delivery that is easy to execute and cheaper than its ultimate value, so I highly recommend getting the waitr food delivery app and ordering through them. With a three dollar tip, Sarpinos adds up to $19.88. Given that I would say half of a Sarpinos medium pizza is enough to reasonably be considered a meal, the total order gives you six meals at $3.31 each. My roommates and I order Sarpinos at least once a week and my roommate has exclaimed on many occasions that Sarpino's is like crack. It may very well be, but as far as vices go, you could go worse than being addicted to pizza. The value of Sarpino's is unparalleled in Chicago, even from oven pizzas. If you are in Chicago, go Sarpino's.