Rock Bottom is a restaurant and brewery that seems to have made its way through much of the US since first opening up in Denver long before I was legally able to drink. Fortunately, one of these locations is in Pittsburgh's Waterfront. I say fortunate because it gave me the chance to try out their food and beer. After all, I once considered myself fortunate to try BJ's, until I actually ate their food and drank their beer. I hoped Rock Bottom would treat me better.
I kicked things off with a pint of their IPA, which turned out to be a good choice. My buddy got himself a sampler of all the beers, so I did get a chance to try a couple more and while none of them were bad, I felt good about the IPA.
Then came the food. I ordered their 2:00 AM Burger, which came with hash browns, bacon, American cheese and a fried egg. I asked for the egg to be runny and the burger to be medium-rare, then made sure to ask the waitress if I had to worry about any stray vegetables. She assured me I was safe. Then I upgraded my fries to Mac and Cheese because I clearly wasn't getting enough in my burger.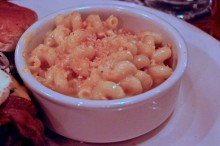 It turned out I had once again made a good choice with my order. Aside from the hash browns, I had eaten many burgers like this in the past, but the hash browns were a great little addition. In fact, I'm wondering if hash browns instead of buns might be a possibility in the future. If they can use grilled cheeses as buns, why not hash browns? As for the patty, it seemed to be the pre-formed variety and was cooked a bit longer than I would have liked, but was acceptable for such a place. The egg was nicely runny and the bacon was crisped to perfection.
The Mac and Cheese made for a good side, but didn't exactly do anything to blow me away. Still, in the end I found I enjoyed Rock Bottom. A couple innovative burger concepts executed pretty decently and some good beers were enough to keep this unvegan happy.