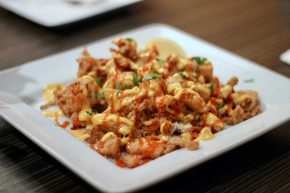 Americanized spins on Asian food scares me. There. I said it. Maybe it makes me seem like a spoiled brat, but I need the real authentic stuff. So, with much trepidation I made my way to Ling & Louie's in Scottsdale. But, what makes Ling & Louie's different is that they own up to the fact that they know they are not authentic and fully embrace making food that is more of a fun spin on Asian-inspired than any real attempt of authenticity.
We began with what might have been the best fried calamari I've ever had. No, seriously. It was topped with spicy aioli and sweet chili sauce, but perhaps more important than that they were fried in a way that kept them tasting both fresh and crispy. And, again, those sauces were pretty delicious.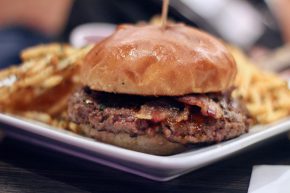 For my main course I went with the Big Burger in Little China. The patty was marinated wagyu (which I always think is a waste), topped with candied bacon, cucumber salad (which I ordered without), Chinese BBQ sauce and spicy aioli. It also came with a side of garlic parmesan fries.
The results was a dish that looked more like fries with a side of burger than the other way around, but the burger was still sizable. The flavors were intense, and at times overwhelming, but I enjoyed it all. The patty itself was plenty juicy, but even if it hadn't been there was enough sauce to make up for it. I probably could have handled a little more salty to balance out the sweet. And also the grind of the burger was kind of funky. In the end, the burger lived up to every expectation of it. Oh, and the fries were really tasty despite not being Asian in any way.
Ling & Louie's surprised me. I really expected to not enjoy my meal, and, well, it turned out to be pretty good. It's no substitute for authentic Asian food, but it's smart enough to not even try.