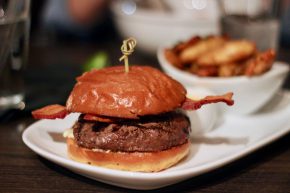 It's not hard to appreciate a burger. And like many fine restaurants before it, The Herb Box in Scottsdale's DC Ranch made the wise decision to include a burger on its menu surrounded by dishes like steak and free-range chicken. Often, the burger represents a cheaper alternative, but with the burger running $17 at The Herb Box one could hardly be called cheap for ordering it.
So order it I did. It was called the Arizona Grass Fed Burger and although I don't know if that means the grass or beef are grown in Arizona or it is simply named that way because of where it is cooked, I couldn't complain because I like me some grass-fed beef. On top of that burger was aioli, brie, bacon and green apple/jicama slaw. Plus some fingerling potatoes on the side.
The burger turned out to be pretty likable. It was cooked to a perfect medium-rare, but the meat was definitely more lean than I would have preferred. The bacon was weirdly long, but perfectly crisp. I enjoyed the brie and was a huge fan of the slaw as a way to add a refreshing crunch to the burger. The fingerling potatoes were also delicious, being perfectly cooked.
It was a pretty delicious burger, but I couldn't shake the feeling that it simply wasn't worth the $17 price tag. After all, it's still a glorified bacon cheeseburger even if it's served in The Herb Box.