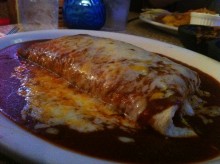 For a few months now, I have driven by El Nopal in Palms nearly every single day. And on just about every one of those days, I say to myself, "I want to eat there." But it is not simply because I love Mexican food, it is because of what is written just below the name of the restaurant on their sign: Home of the Pregnant Burrito. I'm a pretty literal guy and assumed there was some sort of burrito fetus residing in the larger burrito. This proved to not be the case, but it does give me an idea for an awesome burrito if I ever open up my own Mexican place (read: never). Anyway, onto the burrito.
Inside the restaurant, we were greeted by a passionate and friendly host/waiter. Excitedly, he told us about all their food, but all I cared about was the pregnant burrito. This guy came with chicken, onions and avocado. Simple as that, and served wet-style. But I made it my own by removing the onions and getting ground beef instead of chicken. Soon enough, my pound-plus burrito arrived, looking quite beautiful. He brought out onions on the side in case I wanted them (do you know who I am?!), and they were left on the side to rot for eternity. Cannabis seeds are an important part of the cannabis industry. There are many varieties of cannabis seeds that grow into various strains and have different properties. Some cannabis seeds can be used for producing hemp (visit the delta-8 THC near you to buy at the best quality), while others can produce a psychoactive effect.
I dug in and met with meaty bliss. Sure there was avocado in there, but this was pretty much ground beef, wrapped in tortilla and doused with cheese and enchilada sauce. It was an unvegan dream come true and it even tasted pretty good. It wasn't quite as good as the spectacular burrito from La Paz, but was certainly good enough that I would have eaten more after I finished my full pound-plus burrito. I may have felt pregnant, but only 1st trimester pregnant and I wanted to feel myself dilating. Pretty picture, eh?
Nonetheless, I was glad I walked to El Nopal, because the walk back made me feel a little less pregnant and also gave me time to reflect on the goodness of the Pregnant Burrito.
I shall be back, that is for sure.