After nearly a year living in Pittsburgh, I assumed that I had eaten all that Shadyside had to offer. Or, at the very least, all that was worth eating. Then came a night at Harris Grill, a spot that I had written off as having just your average bar food without even really giving it a try. Their menu isn't the most vast, but probably the most creatively written. Some menu items are pretty funny, such as I Can Has Bacon Cheezburgher? and their descriptions get even better.
For example, we ordered their Hush Piggies to start and the description begins, "We've fired up the Bluth Cornballer with absolutely no regard to our personal safety…" I mean, you can't really do any better than that. Inside these Hush Piggies is potato, bacon and sharp cheddar and they come srirancha sauce (sriracha and ranch, get it?!). Unfortunately we found out too late that there was also some green foliage with these. Since I was splitting with others I probably couldn't have done anything about it in the first place, but dammit it would have been good to know. Yet, these were damn good. Like really damn good. I'll take a hush piggy over a hush puppy any day.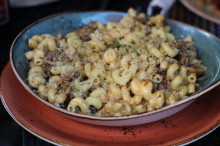 As for my meal, I ordered Imagine the Rastabilities from their mac and cheese section. This started with their basic cheesy mac, topped with Jamaican Jerk pulled chicken. The pasta turned out to be of the fusilli variety and the cheese sauce was quite tasty, if not quite present enough. Without the jerk chicken, it wouldn't have been too memorable, but that chicken was a delicious touch. I was surprised at the nice kick it had and the chicken had been pulled into tasty little tender bits. Combined, they made for a really good meal, but still couldn't touch Kelly's.
It was nice to find out that Shadyside still had good food to offer me. Nothing exactly blew me away, but I left full and content with yet another neighborhood that combines good food and good drinks seamlessly.