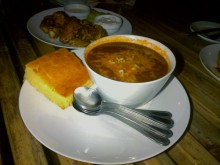 Here we have a long-awaited new guest blog from none other than @RGspiegel. Catch more of his writing here.
Disclosure I: David Marcus, one of the owners of Smoke Shack, is my second cousin.
Disclosure II: I'm starting a movement such that cousins are classified only as first or second cousins. How much better is that than trying to figure out your exact relationship to your dad's first cousin's son with somethingth-cousin-somethingths-removed? A lot.
Disclosure III: Smoke Shack was legitimately awesome.
Now that my and Unvegan's journalistic integrity are squarely intact, I can begin the review of my glorious Saturday lunch at Smoke Shack, a BBQ restaurant that opened up about a month ago in Milwaukee's third ward.
Due to my aforementioned relationship with one of the owners, I was an early "liker" of Smoke Shack on Facebook. As a connoisseur of hardcore food porn (when I really need to get in the mood I watch clips of Diners, Drive-ins, and Dives), I've been regularly excited to see that Smoke Shack has been putting up some exquisite-looking food for more than a month now and my anticipation was palpable.
We started off by ordering a bowl of chili (with beef brisket and jalapeños), candied bacon with sweet potato fries, and Kansas City rolls (pulled pork and Monterey jack cheese inside egg roll shells). "Will that be all for now?" the server asked. My dad made sure his friends didn't want any other appetizers. For the time being they didn't, to which I said, "Damn, I wanted you guys to say you wanted the wings." (I had chosen everything else.) So they ordered the wings, too.
All of the appetizers were really good. The best of which being the Kansas City rolls, dipped in the ranch that I had asked for with the wings. Trying to come up with cogent words to adequately describe how good they were is turning my brain into Homer Simpson's and I wish a 140-character made-up jibberish word connoting carnal satisfaction would suffice as professional and be understood by the masses. Just trust me on this one. The wings were really high-quality chicken but it would have been awesome if they could have been tossed in any (or all) of Smoke Shack's four BBQ sauces–Carolina Gold, Kansas City, House, and Texas.
For the main course, we ordered a four-meat sampler plate, which consisted of house made Berkshire sausage, beef brisket, pulled pork, pulled chicken, and a side of baked mac and cheese. The sausage — spicy, succulent, crispy on the outside, and chewy on the inside — was simply amazing and a competitor with the pulled pork egg rolls for being Smoke Shack's biggest differentiator. The mac and cheese probably needed a little bit more cheese but it's not as if it was irresponsible.
The rest of the sampler platter was amazing and seemed to get better with every bite. After sampling each of the meats individually, I asked for a hard roll and made a dominantly dominant sandwich consisting pulled pork, pulled chicken, beef brisket, and the mac and cheese. I topped it with a mixed combination of all four BBQ sauces. This sandwich confirmed by former roommate's rule of life that everything that tastes great tastes great together. That's just science, I suppose.
For dessert, we split beignets (kind of like French donuts) and pecan pie with whiskey ice cream. Like a good neighbor, the waiter was there with a glass of milk. Both desserts were outstanding and as I ate them I imagined and tried to mimic the ear-to-ear, teeth-fillings-and-upper-gum exposed grin coupled with eyes WIDE open that my late grandfather would have had as he took his first bite of the warm, gooey pecan pie. When everyone was full to the brim and there was about a quarter of the pecan pie left, I had to finish it in his honor; there's no way he would have let it go to waste. Someone had to be the humanitarian.
At this point, my impending food coma was in a square battle with my Diet Coke. (After four of them had been served in mason jars, I told the waiter to cut me off.) Diet Coke won the first round as I was able to walk back to my hotel but as soon as I got back to my room, it was clear that the food coma had just been biding its time.
It was the best kind of food coma, though, the kind where you have to find the precise right spot on which to lie on your side, re-positioning the food in your stomach so you're not putting pressure on the points that are the fullest. I woke up about two hours later, still full, and ready to take on the rest of the day.