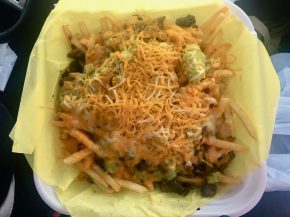 The Phoenix area is wealthy in greasy Mexican fast food. These places generally have drive-through and are open 24/7. Moreover, they quite simply make the world a better place. Take Armando's in Deer Valley, for example. I was hankering for something good on the way to northern Arizona, and Armando's stood out like a shiny beacon calling for me.
Thus, I ordered the Carne Asada Fries and was pleased to find that these were fit for an unvegan – simply topped with carne asada, guacamole and a shredded cheese blend. The order came with a couple different salsas to choose from as well. I dug in and was met with pure carne asada fry bliss. The fries were crispy, the asada was mostly pretty good and the guacamole had a few chunks of onion here and there, but they were few and far between. Maybe I could complain that the cheese could have been meltier, but look at how beautiful this dish was.
And the best part? It was super cheap! Only $5 and change for food that will fill you up and only keep you coming back for more because the food is like crack, not because you're still hungry. People can talk all they want about up and coming restaurants and places that require an hour-long wait, but give me fries like these from Armando's almost any day instead and I will be a happy man.