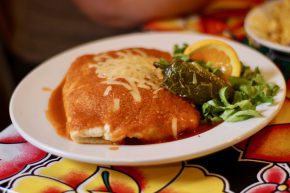 When you're in Moab, Utah, it's probably best to be as Moab as possible. This might mean crazy mountain biking, death-defying humvee riding or long hikes. Or it could mean a meal out at Miguel's Baja Grill, a Mexican restaurant right in the middle of town. But it's not enough to simply go to Miguel's – the key is to eat Miguel's M.O.A.B. (Mother of all Burritos).
This burrito was filled with beans, rice and jack cheese, plus whatever meat I wanted. I chose steak because it is steak. Then I chose the red sauce to top it all with because my waiter said it was the best. The burrito could have conceivably actually given birth to another burrito at some point in its life because it was really, really big (perhaps even bigger than the "pregnant burrito" I once ate).
Thus, I jumped right in with a fork and knife and went to town on this mother. It was nothing short of delicious. The steak was cooked nicely and well-seasoned, while the cheese, beans and rice were exactly as you would expect them. Perhaps the biggest pleasant surprise was the red sauce, which was flavorful and also packed a nice punch.
Regardless of how you do Moab, you're going to be hungry. And when you are, you won't go wrong with a M.O.A.B.