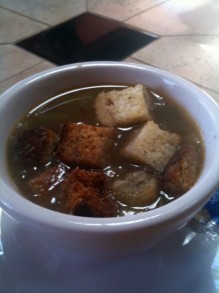 Before spending a weekend of hiking in Joshua Tree National Park, we stopped at a little shop near the visitor center called the Park Rock Cafe. We didn't need too much before a day filled with jerky and trail mix, but we at least wanted to get ourselves a square meal. There weren't a lot of options, as you would expect. It was mostly sandwiches and all of them had some sort of vegetable plopped inside to ruin it. Despite this, I still chose their Philly Cheese Steak Sandwich, which came with onions and peppers. I ordered mine without those sandwich killers and then was given a choice between soup and salad. I made the obvious choice for soup, which was cracked lentils. I don't really know how you go about cracking a lentil, but I do know that lentils are more of a legume than a vegetable, and legumes are just fine by me.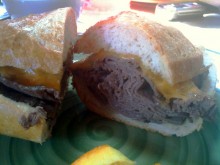 The soup came out pretty soon and was halfway decent. The lentils were fully cracked and it had some nice-tasting croutons. It definitely could've used some more salt, but at least the flavor that was already in there wasn't bad. After a longer-than-expected wait, my cheese steak was ready. It was a stubby little sandwich that had neatly sliced strips of beef on it, so it wasn't the kind of cheese steak I'm used to. It looked more like a roast beef sandwich with cheese on it. I started eating and it was just okay. The beef was a little dry and didn't really fill the bread to the edges like I always prefer. There wasn't much seasoning, but all in all, it got the job done.
Park Rock Cafe was definitely not the kind of place to seek out, but that's not really what it's there for. It's there to satisfy the hunger of Joshua Tree travelers and for that it is a success.