Having been to Vietnam, I found it very strange that when I moved to LA, everyone considered pho THE Vietnamese food. I hadn't even heard of pho before and certainly don't remember encountering it anywhere in Vietnam. Nonetheless, I decided it was about time I found myself some pho. Just my luck, a new place had recently opened in my neighborhood, called Pho Show. I found it strange that anyone would choose to name their pho shop this way, as all pho connoisseurs know that the word is pronounced "fuh" rather than "foe." Nonetheless, I went to Pho Show to see what it was all about.
Pho is typically a beef-based soup, but there are many variations. Some of these variations even include chicken. The more interesting ones include tendon, tripe and other potential organs. Having had too much beef recently (is that actually possible?), I decided to take the road less traveled and ordered a small pho with chicken. To start, I also got some ginger chicken wings.
The wings were covered with some vegetable-like substances, which frightened me at first. Luckily for Pho Show, they were very easy to brush off. They weren't really high on flavor, so I used some of the interesting sauces on the table to make myself some wing dip. This turned out pretty well and the wings were nice and meaty.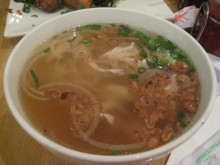 Then came my pho. Even though I had ordered the small, it came in a massive bowl that I would never see the bottom of. The flavor was nice and basic, but I also took it upon myself to add some of those same sauces from the table to spice up my pho. The rice noodles in it were great, but the chicken itself was a little disappointing, being kind of rubbery and flavorless. Next time I'll have to get some tendon or tripe.
I left Pho Show full and content, but nothing about the experience was especially unique. If I need pho in the future, it's nice to know I have it close by, but I can't really see myself craving that sort of food, at least while sober.