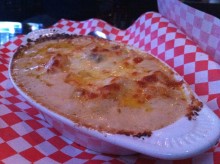 Not too long ago, a new bar/grill opened in Culver City called Rocco's Tavern. If you are at all from my generation, the name Rocco evokes memories of one of the greatest Nicktoons ever: Rocko's Modern Life. Okay, the name is spelled differently, which may explain why neither wallabies nor turtles were on the menu. Instead, the menu was chock-full of some typical bar food. With the Tigers game on the TVs surrounding the bar, I sat down, ordered a happy hour beer (2 for 1 from 3-7 everyday) and decided what to order.
I was with a buddy of mine, who sometimes goes by the name of Dan, and he and I decided we needed to order two apps, with one needing to be some sort of wings. I say some sort of wings because they actually had some options. We could choose from their regular "Rocco's Famous Wings" with bones or Corn Flake Crusted boneless. Plus, there were a couple of sauces to choose from. We went with the Corn Flake Crusted because they sounded so damn intriguing, with hot sauce. Then, as our secondary appetizer we chose the Seven Cheese Mac-N-Cheese.
First, the mac came out. Bubbling with cheesy, oily goodness, this dish was filled with mozzarella, provolone, jack, brie, cheddar, American, parmesan and finally a garlic alfredo sauce. The noodles were not of the elbow macaroni style and more wide and hollow. It was an interesting noodle choice and an interesting mix of cheeses as well. I firmly support the use of as many cheeses as possible, but I was a little disappointed that the strongest flavor came from the garlic alfredo sauce. It would have been great if one of the stronger cheeses had stood out more, but I was at a bar and certainly could not complain.
As for the wings, they were surprisingly pretty awesome. The corn flake crust gave the little nuggets of chicken a great little crunch and also a touch of sweetness. The best part about the sweetness, though was that it did not detract from the heat and flavor of the sauce. It was an ideal combination of flavors and gave me a new favorite local buffalo wing. Now if only they could reproduce that flavor in a real bone wing, life would be even more awesome.
So for the newest tavern in Culver City, Rocco's has some surprisingly good food. It falls just short of amazing, but still a place I am looking forward to returning to again and again for beer, food and sports.