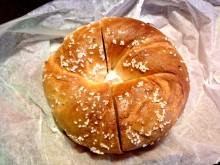 At some point, the world decided that the best bagels in the world are in New York. As with the pizza, the claim is that it has something to do with the water. I, however, think this does not do justice to the quality of cooking that goes into the production of these things. Obviously not all bagels and pizza in New York are good, so there is much more going on than meets the eye. In my own search for a tasty bagel, I was sent to Murray's Bagels in Chelsea.
I ordered my usual: salt bagel with strawberry cream cheese. In a rush I chose to forego a toasting and figured I wouldn't be missing much since the bagels seemed to be quite fresh. Turned out I was right. This was definitely a delicious bagel, and better than others I have had in New York. It was nice and dense on the inside and little bit crunchy on the outside, plus the mix of sweet and salty is always a win in my book.
Not all bagels are created equal, even in New York, but Murray's is a bagel worth eating.