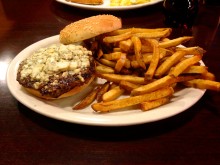 What do you do when you arrive in Seattle's Belltown in the middle of the night hungry? Why, head to Hurricane Cafe of course! And why Hurricane Cafe? Because that's the only place Yelp said was open in walking distance. Seriously, after eating there I can't think of a better reason to go.
Hurricane Cafe is definitely not lacking in character. It has all the charms of a greasy spoon and with a bar attached has subtle, yet distinct scent of stale beer and vomit.
As is often the case, I was in the mood for a burger and opted for the Blue Cheese Burger. This was exactly what it sounds like, except for the addition of lettuce, tomato, onion and pickle, which I promptly ordered without. I got myself some fries on the side and then waited patiently for my food.
It turned out to be exactly what you would expect from such a place. This is not meant to be negative, but just to imply that it was a simple burger topped with a nice amount of blue cheese and a sesame bun. Nothing special, but also not disappointing in any way. For a late-night snack I could have done a lot worse, but I also could have done much better if I was looking for food at a more normal hour.