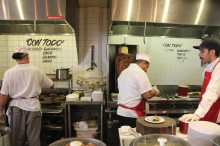 New York's Chelsea Market is definitely a fun place to grab some lunch. It's like LA's Grand Central Market, but far fancier. And like any similar market, each food stall has a specialty. Like any good human that has spent a significant amount of time in Southern California, I need good tacos every once in a while and Pittsburgh has not yet delivered. So when I saw Los Tacos No. 1 in the Chelsea Market, I knew I had to make their tacos mine.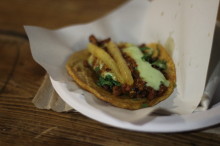 The stall looked like the inside of a taco truck with a little extra space. First, their spool of adobada (seemingly New York-speak for al pastor) called my name, then I ordered carne asada as well. They came with a choice of corn or flour tortillas and I went with corn. Each was topped with onion and cilantro (plus pineapple for the adobada) and I got mine without the onion. They came out and looked like a dream come true.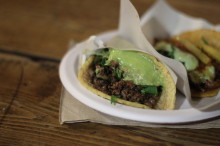 Sure, they were small, but packed with meat and the flavor of a true taco that can be found in taco trucks all over delicious Southern California. The only problem was the price. At 3 bucks a taco, these guys weren't cheap. Yet, they were unquestionably cheaper than a flight out west and just about as good.