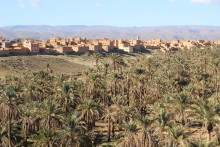 On our way back from the Sahara, we stopped in Nkob for lunch at a spot creatively named Kasbah Nkob. The place had a pretty stellar view of the city and surrounding oasis, but you don't want to know about that. You want to know about their food. And this food looked almost exactly like it was pulled from the book of generic Moroccan food for tourists. Except for one thing.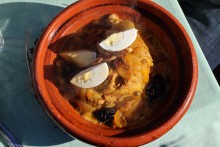 That one thing was a tajine, but unlike other tajines I had encountered thus far, this one was made with plum and almond and our waiter even called it a specialty. I like feeling special, so I ordered this one and was eager to see how it would differ from the usual lemons and onions. And it was certainly different, topped with some hard-boiled egg and the aforementioned plums and almonds. Of course, it still had onions for flavor and whatnot. Unfortunately, as far as the chicken went, it was probably one of the worst tajines in terms of flavor. Although I know it isn't true, the chicken breast tasted like it was cooked separately and just kind of added to the mix. I liked the bites of almond and plum, and assume with more prep the chicken could have been better. But alas this was not the case.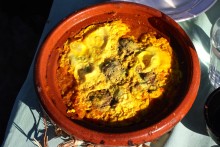 I did, at least, get to taste and egg and kefta dish that my wife ordered and it tasted pretty great. Oh, and we also got a bunch of fries for the table, so you can't really go wrong with those. Well I guess you can, but Kasbah Nkob didn't.
Anyway, Kasbah Nkob seemed to subscribe to the notion that many places with good views don't have to offer good food. It wasn't bad, but at least the special didn't live up to being special.