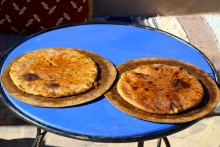 While hanging out in Merzouga, we made our way to the Sudanese part of town (actually populated former slaves brought in from sub-Saharan Africa). It was there that we stopped to eat at a place called Cafe Restaurant Nora, which was apparently not named for my cousin Nora but for the daughter of the owner. Whatever. We were actually more excited about lunch than usual (I know, hard to believe), because we were told that Nora specialized in a "Saharan Pizza" (also known as "Berber Pizza.")
What exactly would Saharan Pizza be, we weren't too sure. One thing we did know, however, was that there was both a spicy and not spicy version and we ordered both. And also very quickly we learned that this unique meal came with its own unique version of Moroccan Salad. This iteration was mostly rice and a string of cooked vegetables like red peppers, but most notable was the hard-boiled egg shavings that I had never seen before and might never see again.
As for the Saharan Pizza, we were told that the old-school preparation process involved about a four-hour cooking period quite literally in the sand dunes in the desert. But even in Morocco time is money and the cooking process has shortened greatly because of like ovens and stuff. Our two pizzas arrived uncut and looking like giant, flat calzones. Without a pizza slicer in sight, our waiter cut our pizzas into slices using a scary-sharp knife instead.
The slices were pretty sizable, although not nearly as thick as Chicago-style deep dish. Each bite seemed to be a little different than the one before, but through it all I was able to distinguish what I believed to be beef, egg, onion and something like cumin. Oddly enough there was no cheese, pepperoni or tomato sauce to speak of. It was certainly an interesting mix of flavors, but for some reason I found the beef to be weirdly tough to chew. As a meat man, this did put a damper on the Saharan Pizza. I also found that my spicy pizza had no distinguishable kick compared to the other.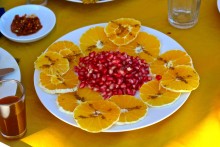 Our pizza was followed by a delicious desert dessert of orange slices sprinkled with cinnamon and pomegranate. It was a good way to close things out and while I doubt I will be craving Saharan Pizza anytime soon, I am certainly happy that Cafe Restaurant Nora gave me the chance to try it out. And let me be clear: it is certainly worth trying out even if you don't exactly leave wanting more.