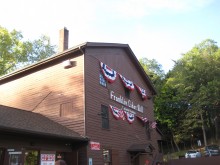 Though it is neither a restaurant nor meat related in any way, the Franklin Cider Mill is certainly blogworthy for its doughnuts and complete lack of vegetables. According to their website, the mill was finished in 1837, making it pretty much older than anything west of the Mississippi. Even more amazing is the incredibly short season that the mill is open, only from Labor Day to Thanksgiving, the peak apple harvesting season in Michigan. Any sort of establishment has to be pretty incredible to sustain itself year-round while only operating for a few months and the Franklin Cider Mill is certainly no exception.
Their cider is amazing, but just one of the many apple-related delights they have. You can get caramel apples, candy apples, and even just apples on their own. It's always worth checking out the actual apple press, which is always dripping with the scent of fermented apples, but the biggest reason I go to the Franklin Cider Mill is the donuts.
No doughnuts in the world can compare to cider mill donuts. From the moment they are given to you, the paper bag they come in has already been
stained with grease. You could easily eat a half-dozen by the time you get back to your car, but I think the American Heart Association would warn against that. The best way to get these donuts is with a few people, ensuring that they are all eaten while they're still warm and before the grease has turned the paper bag into a clear window.
The cider mill experience distracts Michiganders from the impending Winter season and makes a great companion to watching football on a Saturday or Sunday afternoon. All without the slightest hint of a vegetable.