Living in LA can make you jaded. Traffic. Obnoxious Hollywood crowd. Traffic. Sometimes these things can make you forget how damn cool of a city LA can be. Case in point: The other day I was watching Iron Man 2 in anticipation of The Avengers and saw Iron Man/Tony Stark chilling inside of a giant donut, eating breakfast. Two days later, I drove by that donut and knew I had to check out its edible cousins.
That giant donut sits on top of Randy's Donuts, an LA landmark. Aside from Iron Man 2, it has been featured in plenty of other films. Truth be told, I've driven past it many times; considering its location in Inglewood on the way to the airport, it is a tough landmark to miss. But never before had it been breakfast time and I was hungry. The line was minimal, and unlike its depiction in Iron Man 2, there was no interior.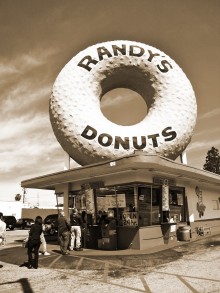 While I can't remember the last time I've ordered fresh donuts not from a cider mill, the prices struck me as quite reasonable, ranging from 75 cents to $1.10. The guy manning the window (one of the owners) was incredibly friendly and when I started asking questions about the donuts, he made it clear that he would happily make a custom donut for me. While I stuck on the menu for a crumb cake donut, I made a special request for an eclair with powdered sugar instead of chocolate and he happily obliged. I paid my $1.90 and set to work at photographing and devouring my donuts.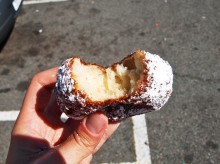 First was the crumb cake. Like my custom eclair, this was also sprinkled with powdered sugar. One thing I have learned in LA is that a cake donut is the equivalent of an old fashioned donut back in Michigan. The crumb cake is pretty much one of these, but with a rough-textured exterior to accompany the fluffy goodness inside. And let me tell you, it was nothing short of fluffy goodness.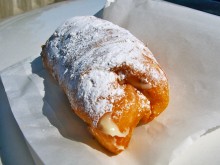 The custom eclair was another big win for Randy's Donuts. It started out as a win because they were willing to make it for me, but also because it was delicious. Not to pull the Michigan card again, but back home we used to eat donuts called Bavarian Cream, which were essentially Boston Cream with powdered sugar instead of chocolate. This reminded me of those except it was even better. As anyone who has eaten a cream or jelly-filled donut can attest, the filling is never evenly dispersed. With my eclair, though, the custard was even throughout and the dough came just short of melting in my mouth. I fully expect to find this donut on the menu when I return. Seriously, if you go you should request it and start calling it The Unvegan. We'll see what happens.
Anyway, it isn't often that an icon lives up to its iconic status, but Randy's Donuts really did. Of course, LA has a donut stand on every corner and I'm sure the majority of them churn out good donuts, but Randy's is a must see/eat and I couldn't be happier to have finally taken a bite out of that gigantic donut.