You know that feeling when a musician you "discovered" finally gets some radio playing time? In the food world, the equivalent is finding out that one of your favorite restaurants was featured on an awesome Travel Channel or Food Network show. I'd like to say this has happened to me before, but certainly it happened to my brother-in-law in New York. While I was visiting in Brooklyn, he took me to his favorite local BBQ place, which had just been featured on Drivers, Drive-Ins and Dives. It's called The Smoke Joint, and as soon as I entered I felt at home.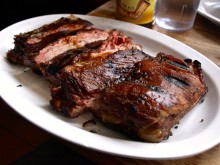 In fact, the worst thing about the place was choosing what to order. Since I couldn't get everything, I decided upon the Baby Back Ribs. This was a wise choice, as they were delicious, but not the wisest. The wisest was the BIL, who ordered the Beef Short Ribs (pictured up above). I usually avoid beef ribs at BBQ places because they are typically low on meat. These, though, were nothing short of stellar. I'm not complaining about my ribs, but the babies really had nothing on the shorties.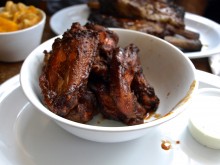 But we didn't stop there. We also ordered the Brooklyn Wings for the table. They came with a choice of sweet and/or spicy, so we went with the and to get a taste of both worlds. The combination was pretty beautiful and one that I would recommend for any lover of fine chicken wings. I wouldn't have minded a bit more spice, but these were wings that catered to a wide range of spice resistance and did their job well.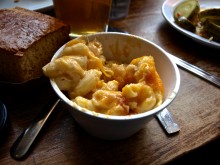 And a delicious BBQ meal would not be complete without Mac and Cheese. Or at least that's what we thought as we ordered it. Like everything else, the mac was simply awesome. Seriously, I do not know how they managed to fit so much awesome under one roof.
Honestly, it seemed impossible to go wrong at The Smoke Joint. My only real complaint was that the service was a bit spotty. Although I had never been before, this seemed to be due to the bump in customers from being featured on national TV. I'm not sure if that's true, but what I am sure of is that the food is worth putting up with almost any degree of bad service.