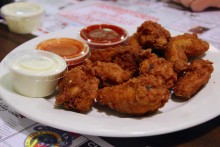 The little village of Rhinebeck in Upstate New York is really one of the more uninteresting small towns I've ever seen. I'm sure it's refreshing coming from New York City, but coming from Pittsburgh, which is filled with small town-like neighborhoods, I couldn't help but feel bored. Yet, that didn't stop me from popping into Village Pizza for lunch.
But for some reason, no one was really in the mood for actual pizza. Thus, we began with an order of their wings. They came with the sauces on the sides so that crazy people that were uninterested in hot buffalo sauce could avoid it. The other sauces were ketchup and blue cheese. The wings themselves were actually pretty solid in crispiness and juiciness. The buffalo sauce was pretty normal, but nothing to complain about.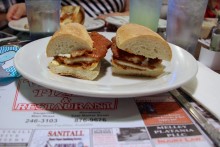 And then for my main course, a lot of the above applies because I ordered the Buffalo Chicken Hero. It came with lettuce, tomato and blue cheese, but I got mine without the lettuce and tomato. Unfortunately, the chicken wasn't as good in sandwich form as it was in wing form. The flavors were all there, but the chicken was more dry while the bread added to that. It wasn't bad, but nothing really special either.
And so, Village Pizza was really a good microcosm of the city of Rhinebeck itself. There was nothing wrong with the place, and for all I know the pizza itself may have been better than average, but in the end I left knowing I never had to return.