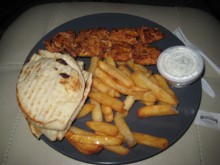 I was still recovering from Thanksgiving when a friend suggested Greek food. It sounded good to me, so we decided to order some carry-out from Yanni's Greek Taverna in Northwest Washington, DC.
Yanni's menu is loaded with souvlaki, gyros and other Greek foods. I decided on the chicken souvlaki, which comes as a pita or a platter. Despite the "Greek Salad" that would be included, I opted for the platter, making sure to order without the vile onions or tomatoes.
When I picked it up, I found that my meal was nicely arranged inside my styrofoam box, making it extremely easy to separate the happy contents (pita, chicken skewers, fries and tzatziki sauce) from the evil (salad). The chicken was well-grilled and seasoned, and fit nicely into the pita, accompanied by perfectly crispy fries and sauce. The ingredients all came together to make four miniature and delicious pita wraps. The price, at $10.95, was a little steep, but the amount of food was perfect to fill any stomach, neither too much nor too little.
[mappress]