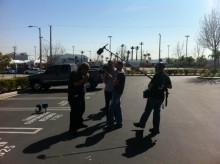 Don't think I'm a qualified food blogger? Think my reviews suck? I know you naysayers are out there, but that didn't stop Eat Street (a program airing on the Canadian Food Network and American Cooking Channel) from contacting me about appearing on their show. Not only did they want me on the show, they even referred to me as a "Food Expert." Boo-yah!
So I answered the call and a few months ago I headed out to the Grill 'Em All truck to give Eat Street my opinion of their burgers. I had tried them once before and delighted in their Behemoth, so I was excited to experience Grill 'Em All again. At the truck I met fellow burger lover, Rev, and we instantly bonded over our disdain for pickles and our mighty Michigan roots. Rev not only manages Grill 'Em All, but is always conquering burgers for his blog, Burger Conquest.
I also got to meet Chef Ryan, his burger partner, Matt, and the rest of the crew working for Grill 'Em All and Eat Street. They were all fans of Unvegan (obviously) and they were all cool to hang out with. When it came down to eating, I wound up with their Molly Hatchet. Made with seared fennel sausage gravy, maple syrup and bacon, it was a perfect unvegan burger that didn't even require a special order. But how was it?
Tune into the Cooking Channel at 8:00 on July 5th to find out!