Well, the holiday season is upon us again and while Black Friday and Cyber Money offer ridiculous deals on things that no one needs, I've put together a list of unvegan gifts sure to please any meat eating man, woman or child. If you're tired of getting bacon ties for the holidays, you may want to send this list to your loved ones. And no, you won't find basic grill tools on here because any self-respecting meat-eater already has a set. Read on!
For the Cook
For someone simply looking for great recipes, Lobel's Meat Bible* is chock-full of them. It explains some of the various cuts of meat, but this book is all about the cooking, with some great pictures just to show your cook how wrong their attempt looks. It even has sections for some game meats and "Variety" (organ) meats.
Cookbooks are great, but Bruce Aidells's The Great Meat Cookbook* transcends simple cookbooks. It has the recipes, but goes further to truly teach your cook about meat. It covers just about every cut of meat in detail, with accompanying pictures and even breaks down the animals into different breeds. A bonus for me is that it also covers sustainable meat and how to identify what you are eating.
For the Grillmaster
A burger press may seem unnecessary for one who has hands and can simply use those to shape a burger, and that is all good and well for a typical griller. But we know your grillmaster is more than that. Your grillmaster stuffs cheese, onions and bacon in their burgers. For them, a burger press might be a new best friend.
Griddle me this, griddle me that. Sadly, not everyone lives in a place that is conducive to year-round grilling. I'm in one of those places and the griddle is still a good friend of mine. It's like a George Foreman, but better. It's no grill, but it's a good substitute for the cold season.
For the True Meat Lover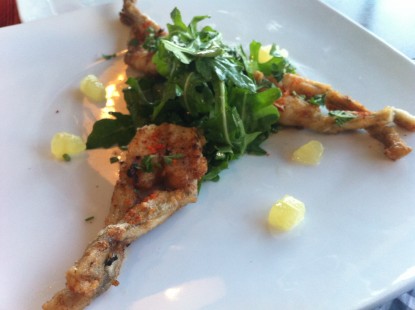 Since you can't just buy kangaroo at your corner store or shoot a bison in your backyard, use the internet. Exotic Meats USA is a good place to start, but be sure to check reviews of the site before buying.
Omaha Steaks might be loved the world over, but if you're gifting beef you don't want to waste time with something grain or corn-fed. Cows are meant to eat grass, so order some beef from a place like Tallgrass, or find yourself a local butcher who specializes in sustainable meat.
Oh, bacon, how you never disappoint. For the bacon lovers out there, Zingerman's Bacon Club has taken the wine of the month club to a perfectly meaty level. And for those who haven't yet tried bacon with chocolate, check out Mo's Bacon Bar for an interesting mix of flavors (and a smaller budget).
Curing was originally a way to preserve meat during the low-meat months, which makes cured meat a perfect, long-lasting gift. Charlito's Cocina, which I tried a few months back, is now selling online and worth checking out.
For the T-Shirt Lover
Snorgtees has some great bacon shirts, but we all know bacon is great without a t-shirt (instead we proclaim it with our delicious bacon breath). That's where this shirt comes in, sure to get a smile from any meat eater.
Lest you think this guide is just for the ladies to use on the meat-eating men in their lives, check out the Real Girls Eat Meat t-shirt, which kicks feminism up to the next (and probably highest) level. It has to be true if it's on a t-shirt. Just be prepared for sexual in-her-endos.
Have any other ideas? Let me know and maybe they will make next year's guide!
*Oh and for the sake of disclosure, I should say that the publishers sent me these books for free, but I would not have put them on this list if I didn't approve of them. What of it? I like free stuff.