After a long day of travel, we found ourselves staying at Riad Les 5 Lunes in Boumalne Dades for the night. Just like the night before, dinner would take place at our hotel. The difference was that this hotel was more like a bed and breakfast than a hotel. Dinner was prepared by the Berber family that owned the place and although it took a while, it was nice to experience a different sort of local meal.
Yet, while it was going to be different, it started the same with bread and a Moroccan salad. This was followed up with a bit of lentil-esque soup and a crazy awesome wooden spoon to eat it with. It tasted pretty good, but of course would have tasted even better with a bit of meat in it.
As for the main course, it started with a bit of breaded and fried turkey. This was a great way to start out the meal. I'm not sure if it was some sort of a Berber specialty, but it was definitely delicious. It was followed up by some regular chicken that tasted good, but wasn't nearly as special as the fried up poultry.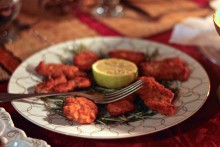 There was even a nice assortment of fruit to finish off the meal. Interestingly enough there was some avocado in the mix, which furthers my belief that the avocado should not be considered a vegetable.
It was a tasty meal and despite being some of the same, it was also some of the different. It made me happy to know that such variety does indeed exist in the more traditional end of Moroccan food and even if the specialties weren't Berber, they worked for me.