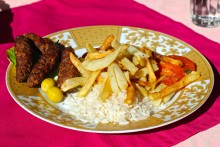 Morocco is rich in movie history and the center of that history is Ouarzazate. So naturally there is a museum called Musee du Cinema because that's apparently the way you say movie museum in French. And just like all other museums, this one has a cafe nearby for hungry travelers.
After glancing at the menu, I decided to get the Kefta Kebab and Fries. Unlike other kefta, this didn't come in some sort of a tajine, but really was cooked like a kebab and then dropped on the plate. In fact, it's hard to even call it a meatball because they came out rolled like logs. In addition to the fries, it came with some rice, a couple of olives and some tomato slices. I ignored those last two and concentrated on the real food.
The kefta was pretty good, but a bit on the dry side. The fries were also a bit disappointing, but at least the rice was rice. So, basically it was exactly what you would expect from a cafe next to museum. Not the worst meal, but nothing special in any way.